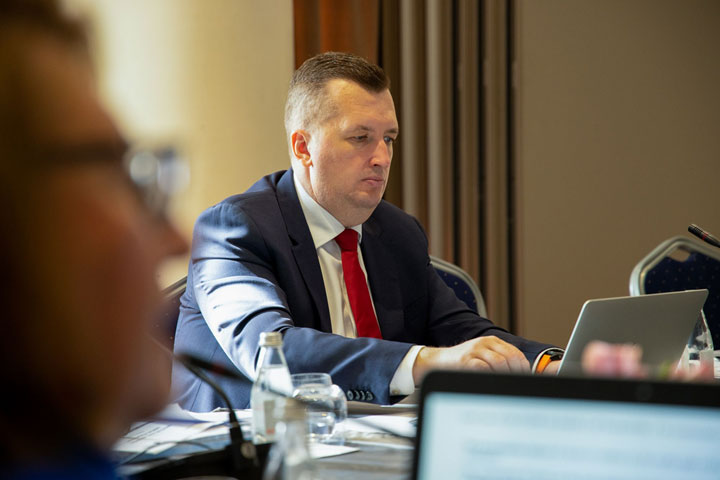 Prof Dr Eldan Mujanović is the National Coordinator from BiH of the regional AIRE Centre/Regional Anti-Corruption Initiative project focusing on asset recovery and management issues and bringing together experts in this area in the wider Western Balkan region.
"Through regional cooperation, we can strengthen the rule of law and build a society in which crime does not pay. We have already made a big step forward with the launch of the regional AR Network and the new web platform that will be used for exchanging data and useful information. We must create a framework to familiarise the public with the issue, to inform and educate decision makers and recognise the advantages of improved communication of the entire region," says Professor Mujanović.
Professor Mujanović singles out extended confiscation as an important segment of the issue. Extended confiscation applies both to proceeds of a crime that the defendant is on trial for and to proceeds presumed to have derived from previous criminal activities, where the defendant failed to prove that they had acquired them legally.
"Extended confiscation affects 'career', professional perpetrators of grave crimes, primarily of organised crime, corruption, financial fraud and transnational crime. Given that the institute is based on international law, more precisely on UN and Council of Europe conventions, and EU law, most states have introduced provisions on extended confiscation in their national legislation, in order to extend the scope of asset recovery and 'relax' the evidentiary standards, because extended confiscation entails a balanced burden of proof and the defendant's obligation to prove the legal origin of the assets at issue," Professor Mujanović clarifies.
Cooperation with judicial institutions across the region, implemented with the UK Government's support, demonstrates the importance of sharing practices and improving links between experts in this area.
"The key feature of organised crime, especially organised crime with transnational elements, is that such offences are very often committed with the sole intention of acquiring assets, usually by trafficking specific prohibited (drugs, weapons and explosives, humans as victims of trafficking etc.) and legal (highly excised) goods, transactions through which organised crime groups acquire huge economic gain. This gain is so huge that it undermines not only the economic systems of individual states, but the very democratic processes and rule of law as well. Violence, interference with legal economic and financial structures and corruption are some of the "accompanying apparatuses" of organised crime and, let's not forget, in order to bribe public officials, criminal groups must have money, which they obtain from their primary criminal activities. All of this demonstrates the danger posed by perpetrators of grave crimes, who have criminal assets they use to consolidate and expand their criminal activities, including corruption that helps protect them from criminal prosecution and legalise their property in which they are investing their proceeds of crime and thus launder (legalise) money," Professor Mujanović adds.
However, the Asset Management Agencies still face substantial challenges.
"The Agencies are an integral part of the criminal justice system. They extend direct support and assistance to the relevant prosecution offices and courts taking steps to temporarily and permanently seize proceeds of crime. Given that such institutions had not even existed until a few years ago, we can now say that the Asset Management Agencies in Sarajevo and Banja Luka have solid capacity. They manage various forms of movable and immovable property seized under the decisions of the relevant courts, property worth tens of millions of convertible marks. Bear in mind that these Agencies are exclusively a service of the judiciary and that they manage only the assets the prosecutors and courts succeed in identifying and seizing. The Agencies are then tasked with preserving the value of the seized property and with using it in public, general interest, and, as much as possible, for general social purposes," he says.
Coordinator Mujanović alerts to the importance of cooperation among all institutions.
"Confiscation of proceeds of crime is the criminal justice system's most important instrument in the fight against serious forms of organised crime. There are differences in the ways the jurisdictions across the region regulate this issue, but the challenges are the same. We cannot make headway without the mutual cooperation of the police and judicial and other authorities," Professor Mujanović concludes.