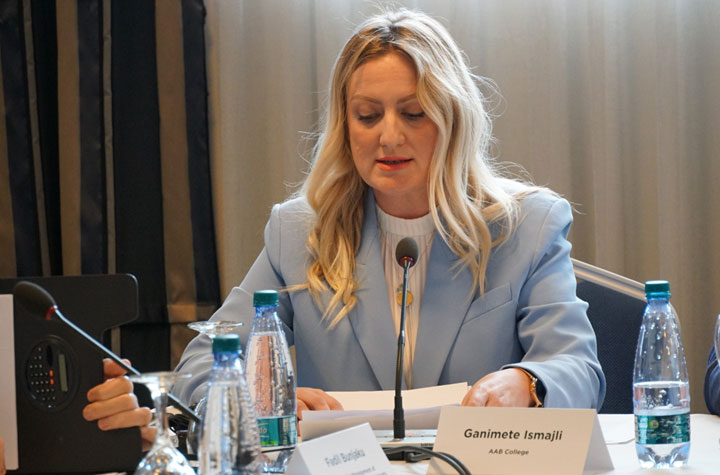 Ganimete Ismajli is a National Coordinator for Kosovo within the regional project that deals with combating corruption and organised crime in the Western Balkans. The Project implemented by the AIRE Centre and Regional Anti-Corruption Initiative, supported by the UK Government, puts the issue of asset recovery in the public spotlight. With the now established Regional Asset Recovery Experts Network and web-platform for exchange of information in this field, Coordinator Ismajli believes that regional cooperation will be more informative, efficient and productive in future. She noted that Kosovo is on the path of progress in this process, but more is needed to achieve efficient means of action in the future.
"It is important to note that Kosovo legislation is well harmonised with EU standards. The confiscation of the proceeds of crime is governed in Kosovo by the Criminal Code, Criminal Procedure Code and lex-specialis Law on Extended Powers for Confiscation of Proceeds. It still remains a task and challenge to complete the legislation further and implement if more efficiently in practice, particularly extended confiscation. It is encouraging to see that asset recovery is one of the main objectives at Government Strategy on Rule of Law 2021-2026," notes Ismajli.
As indicated in the AIRE and RAI report "Combating Corruption in the Western Balkans: strengthening regional cooperation in the field of asset recovery", the entire region made progress in terms of legal and institutional asset recovery capacity. As one of the success stories, many present positive developments is that Kosovo has also introduced the civil standard of proof threshold to its extended confiscation.
"This progress is a result of considerable technical assistance provided by external assistance providers and support from the international community in general, and in particular UK Government. Also, asset recovery as one of the pillars of Government strategy on the rule of law activities includes work on more capacity building is needed to link government bodies, electronically-database, on tracing assets and linking them to their beneficial owners; more training on financial investigation, asset recovery and best practices with international experts; and maps training on crypto and other special pieces of training as one of much needed activities in future", adds Ismajli.
Confiscation of property used to commit criminal offences or derived from criminal offences remains a crucial challenge for the justice system. Although a specific part of such property is successfully seized, it is generally not confiscated by a final court decision.
"Asset recovery is a crucial tool in the fight against organised crime and corruption. Confiscating the proceeds of crime helps eliminate the greatest incentive for criminal conduct: profit. Essential information to the public would be promoting state and social re-use of confiscated assets", underlines Ismajli.
The importance of regional cooperation is essential for the effective fight against corruption. Organised crime and criminals know no borders; they collaborate very well on their operations, so collaboration between states and confiscating crime proceeds become the primary "weapon" for combating organized crime and corruption.
"This project, including platform and network, is an opportunity for WB6 jurisdictions to benefit through direct communications between professionals and practitioners from the region on their needs and ideas, practicing best European standards and exchanging best practices. Together we can do so much more", concludes Ismajli.